Top 7 Best Gaming Headphones Under 5000 In 2023: Are you chasing the best gaming adventure, where you can feel every thrill through crystal-clear sound quality and active noise cancellation? Your search is over here as we deliver the ultimate guide to India's Best Gaming Headphones Under 5000. 
If you like to play games that include pro gaming skills, top-notch headphones can make a lot of difference in your gameplay. We have handpicked the Best Gaming Headphones Under 5000 with excellent sound quality and captivating design while being pocket-friendly.
Through our ample research and expert suggestions, we have created this list to meet the demand of every gamer out there. Let us get started with our top picks!




List Of Best Gaming Headphones Under 5000
Below is the list of the best gaming headphones under 5000. These headphones are from leading tech companies, and you may purchase one according to your preferences and desired features.
1. Razer Kraken X Wired Headphones
The Razer Kraken X Wired Headphones are one of the most purchased gaming headsets known for the outstanding comfort and intelligent technology it provides—people using these headphones report truly immersive and spectacular performance during gameplay.
Its truly fantastic sound quality efficiently mutes outside noise so you can concentrate only on your game. This headset is a popular option for gamers seeking high-quality headphones because it is rated as the best gaming headphones under 5000 in India. The elegant logo on the ear side of its design, which is improved over earlier models, adds to its appealing appearance.
The headset features powerful bass, clear voice transmission, surround sound capabilities, and convenient control buttons. It has specially designed ear cups capable of software-enabled surround sound for PC gaming. 
Bendable cardioid microphone for effective background noise reduction.

Analog volume control wheel and mic mute switch are present on the headset for easy adjustments.

Offers 7.1 Surround Sound, improving the positional audio experience.

In-headset audio controls are available.

It has plush foam cushions and soft headband padding for added comfort.

It is outfitted with custom-tuned 40 mm drivers.

Extremely lightweight design, weighing just 250 grams.

It does not include USB support.




2. Logitech G331 Wired Gaming Headphones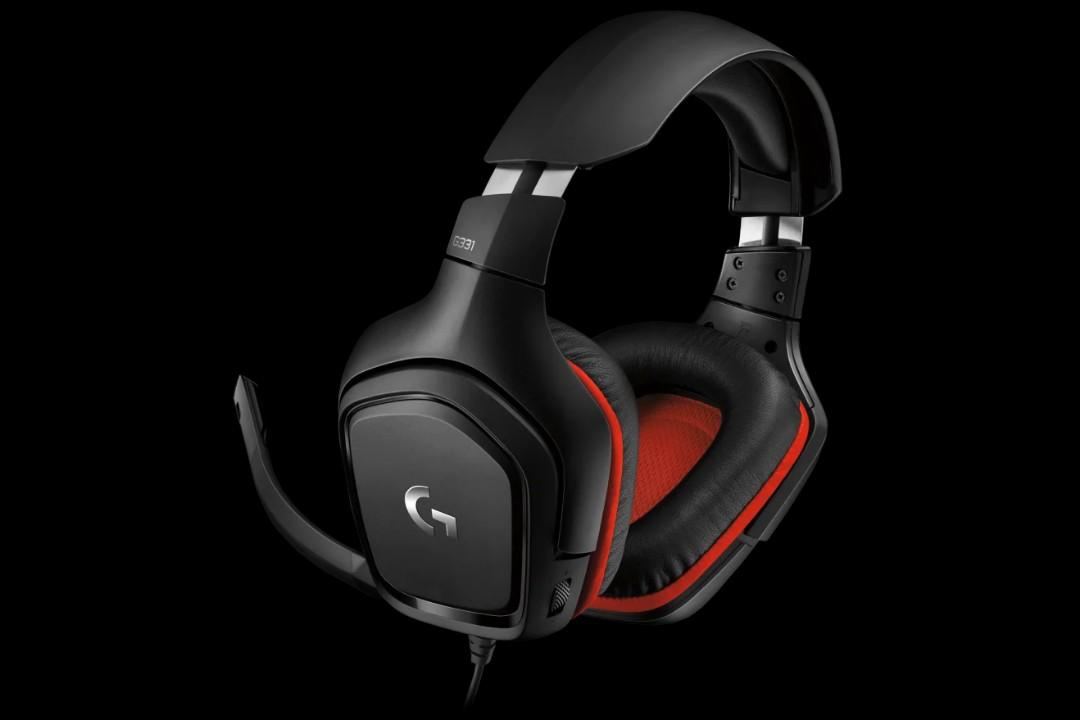 The Logitech G331 is known to be one of the Best Gaming Headphones Under 5000 in the upper segment under 5000 Rs. It is highly considered by pro gamers, especially those looking for an entry-level headset.
The headphones are built entirely of plastic, making them very lightweight and comfortable. Some users might be concerned about its durability due to its extremely lightweight plastic build, but the headset is sturdy and not prone to breaking easily. 
If we talk about the gaming performance, the Logitech G331 is truly magnificent, allowing players to enjoy themselves with great sound quality. It is compatible with PS4 and Windows 7-10 computers, making it versatile for gaming setups.
If you are primarily seeking a gaming headset under 5000 budget, the Logitech G331 will meet your gaming standards and expectations. It comes highly recommended for gamers who want a purpose-built gaming headset to improve their gaming sessions.
Volume slider for handy adjustment settings and an auto-mute button for added comfort.

It has big 50 mm audio drivers, delivering a whole expansive sound.

Features a 6 mm microphone that ensures clear communication with your squadmates.

It offers impressive DTS Dolby 7.1 Surround Sound Audio Output.

It boasts good build quality and a lightweight design.

The microphone is exceptional, with active noise cancellation.

The 90-degree swivel design maximizes comfort.

The volume could benefit from a slight advancement in terms of loudness.




3. HyperX Cloud Stinger Gaming Headphones 
The HyperX Cloud Stinger is a famous gaming headphone widely known for its stylish build and premium matte finish, setting it apart from other entry-level headsets present in the market. The soft cushioning of the headband and ear cups gives it a more premium appearance. Additionally, the rotatable ear cups are very comfortable on the head and make it easy to wear the headphones for longer gaming hours.
The headset is versatile and compatible with many devices, with its 3.5 mm plug can be used with PCs, PS4, and Xbox One. The volume slider is conveniently located at the bottom edge of the right ear cup. Buyers have also praised the headset's great sound quality, which produces clear and precise audio.
It uses a 50mm driver, offering a more robust audio output than the typical 40mm drivers found in most budget headphones. This enhancement contributes to an immersive gaming experience and provides a delightful sound performance.
Also Read.




The Cloud Stinger Core utilizes multi-console technology 

It includes a non-detachable single 3.5mm cable, suitable for smartphone use.

Built-In Adjustable Steel Slider providing a customizable fit.

It has 90-Degree Rotating Ear Cups for added convenience.

It comes with 50mm Directional Drivers, enhancing the audio quality.

It features HyperX Signature Memory Foam comfortable for extended gaming sessions.

Best for console gamers.

Includes a Swivel-to-Mute Noise-Cancellation Microphone setting.

It lacks a dedicated mute button.
4. Corsair HS55 Stereo Gaming Headphone
You must know about this headphone if you're searching for a gaming headset that offers a perfect blend of quality and performance. This headset is an excellent choice with large stylish cans that look good and provide comfort during long gaming sessions. The faux leather material adds to its modern appearance.
When it comes to sound quality, the Corsair HS55 greatly brands with its powerful bass that adds chasm to your gaming experience. Its cable features a standard 3.5 mm audio jack, making it compatible with various gaming platforms like phones, PCs, and game consoles.
The headset's custom-tuned 50mm neodymium audio drivers provide a wide range of sound, letting you hear every detail on the battlefield. Notably, it supports Tempest 3D AudioTech on PS5, further enriching your gaming audio.
Most user reviews have been favorable, with many praising its comfort and clear sound signature. This gaming headphone is a wise purchase you will be proud of if you have 5,000 to spend.
Presents omnidirectional microphone for precise call capturing, followed by a flip-to-mute function.

Flexible leatherette memory foam ear cups and headband.

Easy-access on-ear volume control.

50mm Neodymium speaker drive.

Mic is also detachable.

Long-lasting and durable due to good metal build.

The hinge mechanism may need to be of better quality.




5. JBL Quantum 300 Gaming Headphones
The JBL Quantum 300 is a great option for people looking for a mid-level range of the JBL Quantum series, and according to the makers, it offers amazing surround sound for its price point.
It has good plush memory foam ear pads that comfortably fit your ears. Despite weighing only 250 grams, the headset is designed for prolonged use without causing discomfort due to its lightweight.
The headset's build is mainly plastic, contributing to its lightweight and comfortable design.
As per the gaming experience, the sound quality is fantastic, from picking up the slightest footsteps to booming explosions. These headphones' 50mm neodymium drivers are specifically tuned for hardcore gaming.
It is also compatible with Xbox, PlayStation, Nintendo Switch, mobile devices, Mac, and even VR setups. The 50-hour battery life ensures that it will be a reliable gaming companion, and the 5-minute fast charging feature provides an additional 2 hours of battery backup, which is quite handy.
Voice assistant available with which you can place calls just only with your voice command.

Flip-up Voice focuses Directional Boom mic feature is also present for clear communications.

Dual pairing is allowed with Bluetooth and Aux cable.

It is compatible with almost all gaming platforms.

It comes with soft memory foam cushioning and detachable ear cushions.

The build is Lightweight with a durable headband.

It doesn't have the option of a detachable microphone.




6. Eksa E3000 Gaming
If you're looking for a budget-friendly Best Gaming Headphones Under 5000 with quality audio performance, ESKA has got you covered with this incredible gaming headphone. Its flashy look features RGB lights on the earcups that add to the gaming vibe, all at a price point under 5000 rupees.
The earcups are covered with PVC leather attached to a sturdy metallic frame and an additional strap for extra comfort. 
In terms of audio quality, this gaming headphone has a strong 50mm neodymium driver that enables you to hear even the softest details, like footsteps, giving you a competitive edge in games like BGMI and others.
The headphone connects using a 3.5mm jack, and the USB connector is used for the RGB lighting. All in all, this gaming headphone is an excellent option for those looking for an affordable yet high-performing gaming headset under 5000 rupees in India. Its impressive audio output and comfortable design make it a top choice for gamers.
An In-line remote with a mic mute button and a volume dial is present to control the settings.

The enchanting RGB light and CD grain design create a superb game aura.

2.2m extremely durable cable is present.

It comes with a brilliant 50mm magnetic neodymium driver.

Easy-use volume adjustment and one-touch Mic mute switch.

Breathable over-ear pads for comfort.

It lacks a slider to adjust its length.




7. RUNMUS K3 Gaming Headphones
The RUNMUS K3 gaming headphone is simply the best for gaming fans. It has been specially created for live stream gaming, and its noise-canceling microphone effectively stops background noise.
Its volume and mute buttons add great convenience during gaming sessions. These buttons allow effortless control over in-game audio and the power to mute the microphone quickly. The headset is also adaptable for many gaming platforms because it works with Xbox One, PS4, PC laptops, Sony PSP, and mobile gaming.
The sound quality is better thanks to its advanced 7.1 surround sound technology. It gives the game a realistic sense of direction, letting players fully emerge for battles and predict the enemy's movements.
The K3's ergonomic design, featuring soft padded air cups, provides comfort during long gaming hours while securely fitting on the head. The lengthy cable comes with an adapter, which allows the microphone and headset to be connected to separate 3.5mm ports or plugged in directly with a 3.5mm jack.
The microphone offers excellent quality despite its budget-friendly price, making it one of the best gaming headphones under 5000. 
It includes the RBG Lite feature, which ensures the brightness is enhanced. 

It has a built-in 7.1 Surround Sound USB sound card.

Attractive RGB Smart LED Lighting present.

Multifunctional and In-line controller.

Additional omnidirectional noise-canceling microphone

USB connectors are provided for LED power

3.5mm headset with connectivity plug

It is not wireless.




Buying Guide For Gaming Headphones
Consider the following factors while picking a gaming headphone under 5,000:
1. Connection Type: Check the headphone's connection type because it differs depending on the platform. Gaming headphones have different cables, including 2.2mm, 3.5mm, wired USB, wireless USB, and Bluetooth.
2. Build Quality: Pay attention to the materials used to make the headphone's headband, ear cups, and overall weight. Long gaming hours need a lightweight build and a flexible design.
3. Compatible Platforms: Verify that your headphones are consistent with other gaming systems you use, whether they be Xbox One, PlayStations, PCs, smartphones, or other devices. Superior gaming headphones generally function good across several platforms.
With these aspects, it will be easy for you to discover the best gaming headphone that suits your gaming demands and platform compatibility.
FAQs Related To 
1. Are Wireless Headphones OK For Playing Games?
With the comfort of Wireless headphones, you can easily play games on a smartphone, computer, or console because they are mainly compatible with various platforms.
You may move around freely with these headsets instead of being constrained by a cable, which improves your gaming experience.
2. What Distinguishes Gaming Headphones From Headphones For Listening To Music?
The intent of gaming headphones is to improve your gaming experience. They generally contain attributes like surround sound, active noise cancellation, and built-in microphones to better communicate with your squadmates.
Conversely, music headphones are prepared to deliver superb audio when hearing music. These kinds of headphones also have a range of gaming features, so you may still use them for gaming.




Conclusion
Headphones are definitely the most essential gaming companion that truly impacts the overall gaming experience. Every pro gamer or even a beginner wants the Best Gaming Headphones Under 5000 with a standard and cool design. However, picking the right headset can be trickier with so many models available in the tech market. Ultimately, the choice depends on how you wish to use them and what features you need.
Our complete list considers all the critical aspects every gamer looks out for, such as comfort, sound quality, flexibility, and affordability. To help you make an informed decision, we have provided the pros and cons for each headset below.