The release of "The Archies" trailer has generated significant public interest and excitement – The hills have stories to share, and within those stories, friendships blossom. The trailer for the highly anticipated live-action musical, "The Archies," was unveiled on Thursday, providing fans with a glimpse into the enchanting world of the film. This movie, which introduces actors such as Suhana Khan, Agastya Nanda, and Khushi Kapoor, is poised to be a captivating coming-of-age musical.
Following the adventures of Archie, Betty, Veronica, Jughead, Reggie, Ethel, and Dilton, "The Archies" promises to unfold a tale of friendship, growth, and music. Suhana Khan, Agastya Nanda, and Khushi Kapoor, making their acting debut, join the cast alongside Mihir Ahuja, Dot., Vedang Raina, and Yuvraj Menda.
READ ALSO : Bhool Bhulaiyaa 3: Anees Bazmee reveals that the film may not release soon
The film is not just an introduction to a new generation of actors but also a celebration of the iconic characters that have been beloved for generations. As the audience awaits the release, "The Archies" seems ready to offer a magical journey into the world of dreams and melodies.
The Indian adaptation of the beloved classic unfolds through the perspective of the Anglo-Indian community, as a group of teenagers grapples with the complexities of love, heartache, friendship, and rebellion. The trailer of "The Archies" provides a sneak peek into the film's world, set in the fictional hilly town of Riverdale in 1960s India.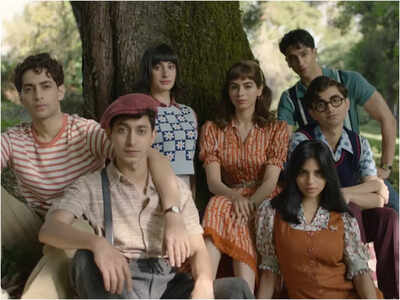 Spanning over 2 minutes, the trailer introduces key characters such as Veronica (Suhana), Betty (Khushi), Archie (Agastya), and the gang as they navigate the challenges of adolescence with fun, music, and style. However, as with all tales, a twist emerges, compelling the friends to unite stronger than ever to save their town, community, and discover themselves in the process.
READ MORE : Ajay Devgn Once Again With Singham 3
The trailer for "The Archies" exudes inherent freshness in its approach, capturing a light and joyful vibe true to the young adult (YA) genre. The tone and setting stand out, offering a refreshing perspective compared to the usual landscape of Indian OTT content.
Produced by Zoya and filmmaker Reema Kagti through their production house Tiger Baby, in collaboration with Graphic India and Archie Comics, the film is directed by Zoya. Scheduled to stream on Netflix from December 7, "The Archies" promises a delightful journey through the nostalgia-laden yet contemporary narrative